Attorney Charles Havener
Attorney Charles Havener was born in Iowa and spent his early years on a sheep farm. Later, his family moved to Southern California where he spent his childhood surrounded by warm weather and people from all walks of life.
Unfortunately, his parents separated while he was in high school and this hardship drove Attorney Havener to find comfort in a new-found Christian faith. The despair in experiencing the painful results of divorce and a faith journey is driving Attorney Havener to a vision of serving others and to look out for the less fortunate.
After his parents' divorce, Attorney Havener returned to Iowa and worked to pay his way through college. He attended Western Iowa Tech Community College and Morningside College in Sioux City Iowa. He graduated Summa Cum Laude with a double major degree in Religious Studies and Political Science. He then went on to earn a Juris Doctorate from the Regent University School of Law.
In college and during law school, Attorney Havener worked at various law firms including the U.S. Attorneys Office, The NLF(a religious liberties law firm), and a real estate law firm. After Law School, Havener worked for a multi-office law firm in Hampton Roads that handled a large variety of cases.
Attorney Havener started his own law practice in 2003 with a focus on Real Estate transactions, Bankruptcy, and Adoptions. In 2008, Attorney Havener opened up Haven Law Group, PC and hired more staff to expand and reach more clients in need.
Over the last decade, his firm has flourished. Attorney Havener and his staff now have the combined experience of having completed over 3,000 real estate transactions, 1,300 adoptions and thousands of bankruptcies. He enjoys serving others and feels very fortunate to be able to practice the areas of law that he likes. He strives to treat each of his clients with compassion and care and has great satisfaction in improving clients' lives through his services.
In the area of Bankruptcy, filing a bankruptcy and obtaining a discharge for his clients is not enough. Attorney Havener will go the extra mile to provide his clients a great program for rebuilding credit in a very efficient manner. This benefit is provided at no extra cost – in line with his loyalty and care for the best interests of his clients. His clients' financial problems are discussed at length and the clients are fully informed of the benefits of Attorney Havener's services. Clients often feel overwhelmed when coming in for a consultation but leave feeling much better after meeting with him and being reassured that he will be there for them through this legal process.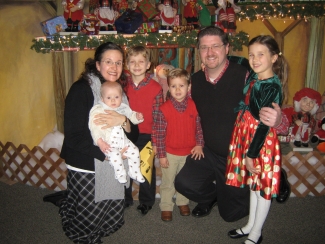 Attorney Havener has been married to his lovely wife for 12 years and is currently blessed with four children: Gloria (10), Samuel (8), William (5) and Joshua (a very big 2!!!).
They live on a 27 acre farm where they raise Black Angus beef cattle, chickens, rabbits and various other animals that his children insists they adopt. He and his children love to hunt and fish and almost every year he and his children are able to bag at least one buck and/or a turkey while hunting on their own property. As for fishing….there are just too many tales to tell about that!!!